Forging Press

Straight Side Hot Forging Press JFP 2500

- Slide adjustment & Automatic stick release device

Slide adjustment device that attached to the side is operated easily by hydraulic motor. It can adjust with one touch digital memory and has overload protecter function.
Stick release device is doing stick relief easily by operating cylinder and lever.

- Hydraulic upper knockout device

Make up for durability and control problem in the mechanical type and as progress of work, control is easier than mechanical type.


Hydraulic upper knockout device spec

| Main Spec\Model | UNIT | JFP-600 | JFP-750 | JFP-1000 | JFP-1350w | JFP-1600w | JFP-1600L | JFP-2000 | JFP-2500 | JFP-3000 | JFP-4000 |
| --- | --- | --- | --- | --- | --- | --- | --- | --- | --- | --- | --- |
| Capacity | TON | 600 | 750 | 1000 | 1350 | 1600 | 1600 | 2000 | 2500 | 3000 | 4000 |
| Stroke Length | ㎜ | 170 | 190 | 220 | 240 | 270 | 300 | 300 | 320 | 350 | 380 |
| Strokes Per Minute | SPM | 105 | 100 | 90 | 85 | 80 | 75 | 75 | 70 | 70 | 60 |
| Die Height | ㎜ | 560 | 580 | 640 | 700 | 780 | 1000 | 880 | 900 | 1000 | 1100 |
| Slide Adjustment | ㎜ | 8 | 8 | 10 | 10 | 10 | 10 | 10 | 10 | 10 | 10 |
| Slide Area(LRxFB) | ㎜ | 660×680 | 740×780 | 830×880 | 880×920 | 1050×1000 | 1600×1100 | 1100×1050 | 1200×1150 | 1300×1200 | 1500×1400 |
| Die Seat(LRxFB) | ㎜ | 780×800 | 850×900 | 900×1000 | 1000×1050 | 1200×1200 | 1800×1300 | 1300×1300 | 1400×1400 | 1500×1500 | 1800×1600 |
| Upper Ejector | ㎜ | 20 | 20 | 25 | 25 | 30 | 30 | 30 | 30 | 40 | 50 |
| Lower Ejector | ㎜ | 40 | 40 | 50 | 50 | 60 | 60 | 60 | 70 | 80 | 80 |
| Main Motor | ㎾ | 37 | 45 | 55 | 75 | 90 | 110 | 110 | 132 | 175 | 250 |
| Adjust Motor | ㎾ | 0.75 | 0.75 | 1.5 | 1.5 | 3.7 | 3.7 | 3.7 | 3.7 | 5.5 | 5.5 |
Chopping Press

Straight Side Hot Forging Press JFP 2500
JCP Series 200 | 300 | 450 | 600 | 1000 | 1300

FEATURES
• High rigidity monolithic heat treatment structure
• Eccentric operation method
• Over 30% continuity torque clearance(Compare with other companies)
• Anti transformation and precision cutting
• Reduce noise under shock-absorbing device
• Non back stopping by double clamping
• Anti vibrating clamp roller
• Protect heating coil damage

OPTIONAL ACESSORIES
• Transfer conveyor automatic control device
• Stepwise handling device
• Chopping dies : Clamp device for quick die changer
• Material weight sensor

Chopping Press spec
Model
UNIT
JCP-200
JCP-300
JCP-450
JCP-600
JCP-800
JCP-1000
JCP-1300
Capacity
TON
200
300
450
600
800
1000
1300
Stroke PER/Min
SPM
55
45
43
36
34
32
30
Stroke Length
mm
80
95
110
130
140
150
160
Motor Drive
Kw
30(4P)
37(6P)
45(6P)
55(6P)
75(6P)
75(6P)
90(6P)
Motor Oil Supply
Kw
-
0.4(4P)
0.4(4P)
0.4(4P)
0.4(4P)
1.5(4P)
1.5(4P)
Feeding Speed
m/min
40
40
40
35
35
30
30
Decelerator Motor
1/20Kw
2.2(4P)
2.2(4P)
2.2(4P)
3.7(4P)
3.7(4P)
5.5(4P)
5.5(4P)
Standard Cutting Length
mm
40~250
40(60)~350
50(65)~450
80(60)~500
80(60)~600
100(80)~750
100(80)~750
Cutting
Capacity
Material
Tension
(Kg/㎣)
MAX.
CON.
MAX.
CON.
MAX.
CON.
MAX.
CON.
MAX.
CON.
MAX.
CON.
MAX.
CON.
S20C
40
76
62
92
76
110
93
130
107
151
124
170
138
193
158
S45C
60
62
50
76
62
92
76
105
88
124
101
138
113
158
129
S58C
70
57
47
70
57
86
70
99
82
114
93
128
104
146
119
SMn443
80
54
44
66
54
80
65
93
76
107
87
120
96
136
111
SCr435
90
50
43
62
50
76
62
87
71
101
82
112
92
129
105
SCM440 (SCM4)
100
48
39
59
48
72
58
83
68
96
78
107
87
122
100
Cutting NUM/M
22
CON.
20
CON
18
CON.
16
CON.
15
CON.
15
CON.
14
CON.
Ability
Ton
180
120
270
180
405
270
540
360
720
480
900
600
1170
780
Trimming Press

SINGLE/DOUBLE CRANKLESS TRIMMING PRESS
JTP Series 200 | 300 | 450 | 600 | 800 | 1000 JCTP-160, 200, 250, 300~1000

Standard
• Slid adjustment device
• Auto-lubrication system
• Pre-set counter
• Analog indicator for crank angle

Option
• Digital indicator for crank angle
• Device for quick die changer
• Anti-vibration device
• Die-cushion device

Trimming Press spec
Model
UNIT
JTP-200
JTP-300
JTP-450
JTP-600
JTP-800
JTP-1000
Capacity
TON
200
300
450
600
800
1000
Stroke Length
㎜
200
250
300
300
350
380
Strokes Per Minute
SPM
40
35
30
30
25
22
Slide Adjustment
㎜
100
100
120
120
120
120
Slide Area(LR×FB)
Single
㎜
920×800
1170×900
1220×1000
1320×1100
1420×1300
1420×1400
Double
㎜
-
1320×900
1420×1000
1620×1100
1920×1500
2020×1500
Bloster Area(LR×FB)
Single
㎜
1000×900
1200×1000
1300×1120
1400×1280
1500×1500
1500×1500
Double
㎜
-
1400×1000
1500×1120
1700×1280
2000×1700
2100×1700
Main Motor
Kw×p
22×4
30×4
37×6
45×6
60×6
75×6
Adjust Motor
Kw×p
0.75×4
1.5×4
1.5×4
2.2×4
2.2×4
2.2×4
Side Opening
㎜
400×450
520×650
560×700
610×700
610×800
700×800
Die Height
㎜
500
550
610
700
800
900
Die Set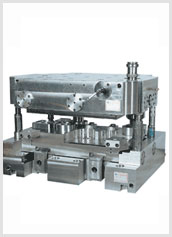 DIE SET (for Q.D.C)

Excellent design and consideration specific charactor of mold

Forging Press
• Various types of die set
• Various types of die holder
• Clamp device for quick die changer
• Die lifter